2019 SEASON REGISTRATION IS NOW CLOSED
Please contact our Registrar with any registration inquiries you may have: registrar@whitebutteminorball.ca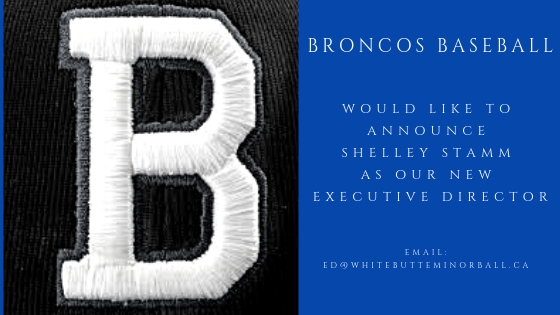 2019 Broncos Baseball Player Development Sessions
Location: Emerald Ridge School in White City, SK
Clothing Required: Baseball Hat, T Shirt, Shorts, Clean Indoor Runners, Water Bottle
Equipment Required: Baseball Glove; Baseball Bat and helmet for Hitting Sessions
Instructor: Justin Eiswirth
Registration: Registration will be open on Sunday mornings at 9:00 am each week. The first 16 to register will be accepted for the session on Monday evening (the next day).
Cost: The cost is $10.00 per session. Please pay online at www.whitebutteminorball.ca , there is a registration tab on our homepage called "2019 Player Development Registration".
Note: In order to be eligible for the Player Development sessions, you must complete your registration for the 2019 Broncos Baseball season first.
Mosquito

Mosquito

Pee Wee

Pee Wee

Bantam/ Midget

January

7

6:30 pm

Throwing Mechanics/ Infield Skills

7:30 pm

Throwing Mechanics/ Infield Skills

8:30 pm

Throwing Mechanics/ Infield Skills

January

14

6:30 pm

Hitting

7:30 pm

Hitting

8:30 pm

Hitting

January

21

6:30 pm

Pitching

7:30 pm

Pitching

8:30 pm

Pitching

8:30 pm

Pitching

January

28

6:30 pm

Catcher Skills

7:30 pm

Catcher Skills

8:30 pm

Catcher Skills

8:30 pm

Catcher Skills

February

4

6:30 pm

Hitting

7:30 pm

Hitting

8:30 pm

Hitting

February

11

6:30 pm

Outfield & Infield Skills

7:30 pm

Outfield & Infield Skills

February

25

6:30 pm

Pitching

7:30 pm

Pitching

8:30 pm

Pitching

March

4

6:30 pm

Hitting

7:30 pm

Hitting

8:30 pm

Hitting

March

18

6:30 pm

Throwing Mechanics & Hitting

7:30 pm

Throwing Mechanics & Hitting

8:30 pm

Throwing Mechanics & Hitting

March

25

6:30 pm

Pitching

6:30 pm

Pitching/Pickoffs

6:30 pm

Pitching/Pickoffs

April

1

6:30 pm

Infield Skills & Baserunning

7:30 pm

Infield Skills & Baserunning

8:30 pm

Infield Skills & Baserunning

April

8

6:30 pm

Hitting

7:30 pm

Hitting

8:30 pm

Hitting & Baserunning

April

15

6:30 pm

Pitching

7:30 pm

Pitching

8:30 pm

Pitching/Pickoffs
2019 Broncos Baseball Player Evaluations